A Bridal Shower Fit for the Mitten
When it rains, it pours! My first ever bridal shower experience was double the fun thanks to a very special co-guest of honor, Roo's sister, Mandy. We're getting married just a few weeks before Mandy and her fiancé, so Roo's side of the family decided to throw us a joint bridal shower over the Fourth of July weekend in his home state, the mitten of Michigan.
I think I can speak for both Mandy and I when I say that our amazing hosts did an incredible job of honoring us. Roo's sisters Amy and Wendy along with his Aunt Diann coordinated a colorful brunch shower that was so full of love and laughter that I don't think either of us will ever forget it.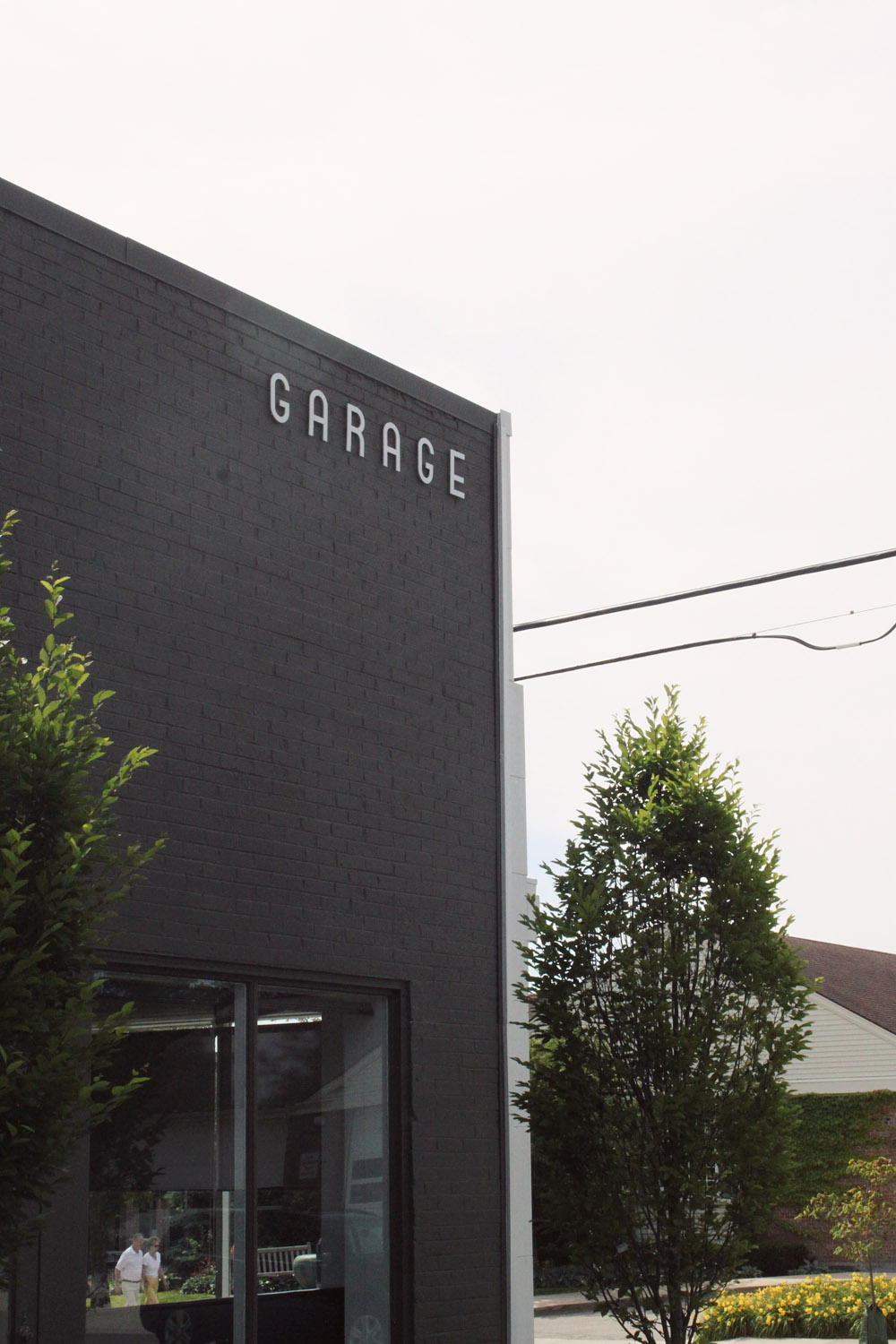 On Saturday morning, family and friends descended on Garage Grill & Fuel Bar in Northville, Michigan for a double-trouble bridal brunch. The venue was very cool; Garage is a restaurant and bar set in a restored 1940's-era gas station. There's tons of charm and they retained a lot of industrial garage elements in the architecture and decor to tie in to the building's history as a service station. And the food… I should have gotten a picture of the food. It was great! We had a spread of all the brunch favorites, including French toast, scrambled eggs, bacon, sausage, and a made-to-order omelette station.
When guests walked in, they were greeted by an entry table with photos of the two couples of honor (that's Roo and I in the left frame below).
Then guests continue on into a beautifully decorated private room with a big banquet table inside. Mandy and I each had places of honor at the heads of the long table. The whole room was decorated in red and teal blue, with lots of whimsical decorations like chalkboard signs, potted topiaries and favors at each place setting.
It was perfect, and you could tell our hosts (especially Aunt Diann, they tell me) had put a ton of effort into making it look spectacular.
My favorite part of the decor was probably the table runner. Roo's sister Wendy is quite the photographer and put together a table runner made from black-and-white photos of myself, Roo, Mandy and her fiancé Matt. There were photos from every stage of our lives—or at least every one available on Facebook.
I found a tutorial for a DIY photo table runner here from Ruffled, but the idea is easy to grasp: Wendy printed out photos, slipped them into plastic sleeves and used double-stick tape to attach the photos together to form one long piece that runs the length of the table. (She actually did in three pieces at home so it was easy to transport, then fastened those pieces together on site.) It was creative and looks great, both in person and in pictures. The photo table runner idea would be right at home in wedding decor, too.
Along the wall behind the table was a dessert spread—all homemade by our hosts and perfectly coordinated to the theme. There were red velvet and blue velvet cupcakes tucked into mason jars, plus the cutest miniature apple and cherry pies. I can report that they were as delicious as they are adorable.
Behind our seats at the ends of the room, Mandy and I each had tables for guests to drop gifts. Each table had our names and wedding dates written down on chalkboard-painted platters.
My table had a few gifts wrapped in One Direction wrapping paper (I loved it), courtesy of pranksters Mandy and Roo's other sister, Heidy. Roo has four sisters in total—it was hard for me to keep straight when we first met, too.
 The Fab Five: My co-bride Mandy, our hosts Amy and Wendy, Roo (J.R. to everyone who's not on the 'Bee), and Heidy, mom to our sweet flower girl.
 If you're wondering why Roo is so underdressed, it's because this wasn't really meant to be a co-ed shower. Roo's family is spread out, and more than a few people were traveling to Michigan for the shower. So Roo and his brothers-in-law (and future brother-in-law) had big plans for a guy's day out/bachelor party while us gals were doin' the bridal thing. But after dropping us ladies at Garage, the boys had a few hours to kill before they needed to be downtown for the Detroit Tigers baseball game, so they stuck around.
Roo and Matt helped me and Mandy open gifts for a little while…
…and what did the guys do the rest of the time?
If you answered "get drunk at the bar at 11 am," you're absolutely correct!
It was an incredible day that I'll never forget. I'm so grateful to Amy, Wendy and Diann and everyone who was there for going above and beyond and really showering us with love. The whole thing was beautiful and touching.
During brunch, Wendy made a really sweet speech about Mandy and me—I wish I had a photo of that moment. I also wish we'd gotten a photo of the brides together. Duh! It kind of reminds me how important a wedding photographer is and how useful a detailed shot list can be—they're there to capture once-in-a-lifetime moments.
The next big wedding event on my calendar is Labor Day weekend—my bridesmaids and family are throwing a shower for me in my hometown of Miami, followed by a bachelorette weekend in Key West. So give me your best bachelorette advice! Any wisdom or wish-I'd-done-it moments for my "hen party"?