A Page from The Floral Playbook: Our DIY Game Plan
Thanks to a tight budget and my stubborn desire to splurge on a photographer and a great venue, we knew we'd have to cut corners on some aspects of the wedding. One of the easiest line items to cut was hiring a florist. Flowers just didn't seem so important to me or to Roo, in our grand vision of the day, so we thought the bouquets and centerpieces were a great option to DIY instead of hiring a pro.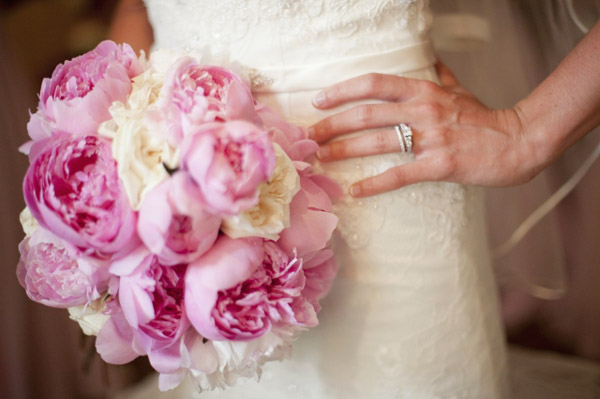 Mrs. Balloons' beautiful DIY wedding bouquet.
I'm aware of the challenges we're facing by not hiring a florist. Flowers are living things, and we run the risk of them wilting or dying since we can't (or maybe don't know how to) give them the proper attention. We're also giving up the opportunity to have truly amazing florals at the wedding. No matter how much I learn and practice, our DIY flowers will never be as great a pro. And I definitely swoon over lush bouquets and showstopping centerpieces. I just know on the list of what's important, centerpieces are near the bottom (though I'm sure I'd be singing a different tune if our venue wasn't already full of so much character).
My biggest concern, though, has to be timing. The morning of our wedding, I just want to sip a mimosa, nosh on some Chicken Minis (a la Mrs. Bicycle) and have somebody else do my eyeliner. I don't want to run around like a hen with my head cut off scouring farmer's markets for flowers, then race back to the suite with barely enough time to put cut stems together into centerpieces. That sounds like a really good way to make sure I start my wedding day off stressed out and anxious (with crooked eyeliner).
So here's my plan for our bouquets and centerpieces: A combination of potted plants and mail-order stems.
Centerpieces
I don't mean to be a broken record, but our brewery venue already has tons of character. Our goal with the ceremony and reception decor is to just add little bit of "this is kind of a big deal" wedding flourish to a place we already visit at least once a month with friends for beer tastings. Plus I'm a big fan of modern, minimalist table decor anyway. I intend to use lots of potted succulents in different white ceramic vessels. The big advantage here? I can prepare our centerpieces weeks in advance.
I have a black thumb, for sure, but I can definitely manage to keep a succulent alive for a month. I hope transportation will be easy, but I really love the look of those tall potted succulents above, which might pose a challenge trying to get them there in one piece.
(Side note: I'm positive those are these thankfully affordable candlesticks from IKEA, with a little DIY painted flair.)
For some variety, I also intend to add a few small plush arrangements of cut stems to our tables and around the reception. Where will those flowers come from? I'm hoping online. I want to use a mail-order flower delivery service to send cut blooms to me (either at my apartment or the hotel, depending on logistics) a few days before the big day. Then, the morning of the wedding, my bridesmaids and family will put together a few simple arrangements. Really simple arrangements.
My short list for mail-order flowers is Fifty Flowers, Flower Muse, Blooms by the Box and Grower's Box, though I'd love to hear any reviews or real experiences (both good and bad) from the hive.
Bouquets & Boutonnieres
In addition to the extra centerpieces, I envision my bridesmaids and I making our bouquets from the big online flower order, too. I'm confident enough in my composition and maker skills to put it together (with plenty of help from online tutorials like this one—though my bouquet certainly won't be Godzilla-sized like Brittni's).
I'll also have my new wedding mantra—"good enough"—in my back pocket. Although I am considering getting a tattoo on my hand that says "Flowers aren't a priority" to get me through the morning.
And the guys' boutonnieres? Those we're buying from a florist. I think I'll have enough to worry about.
Do you think I can do it? Any DIY advice for me, hive?